I have not done one of these in awhile, long overdue. Tired of all the bad news, check out some of these websites, and there are many more, to see uplifting stories.
Naive by Andy Grammar –
Thank You For Being You by Brady Rhymer –
—————————————————————————————————————————————–
from goodnewsnetwork.org
When Kenyan Team is at Disadvantage Because of Their Shoes, Israeli Squad Buys Them All New Cleats
When the Israeli women's lacrosse team noticed that their opponents on the Kenyan team were playing at a disadvantage, they resolved to fix it.
The Israeli team beat Kenya 13-4 during their match in the Women's Lacrosse World Championships in Ontario, Canada last week.
Though the victors were happy to have won, they noticed that the Kenyan team was playing without cleats.
Since the two teams also happened to form solid friendships with each other during their time on and off the field, a few of the Israeli players asked their parents for help buying proper footwear for their new international friends.
With the help of tournament officials, the Israeli girls met up with the Kenyan team the day after their match and gifted them all brand new cleats.
Needless to say, the resulting joy between the two teams was particularly contagious.
After finally being given the tools to play on an even footing, the Kenyan Lacrosse Team
went on to beat Belgium 16-9 for their second win in the tournament the very next day—and they were quick to thank their Israeli friends for the leg up.
"A brilliant win today on the slippery surface thanks to [Israel Lacrosse] and our cleats!" wrote the Kenyan team's Twitter page.
"The support from all around the world for our African Queens is priceless and hugely humbling," they added. "The attention on and off the pitch for these players is more than all the nations competing combined… and rightly so."
——————————————————————–
from goodnewsnetwork.org
School Superintendent is Using His First Ever $10,000 Bonus to Pay For Students' College Applications
Rather than pocketing his first ever $10,000 bonus, this public school system superintendent is using the money to cover the college application fees of his high school students.
44-year-old Grant Rivera, who has been the superintendent of the Marietta School District in Georgia since 2016, says that he is eligible for the bonus every three years if he receives a satisfactory performance review.
Rivera is donating the bonus to the Marietta Schools Foundation so that it can help students who apply to colleges ahead of regular application deadlines.
"I don't believe that a bonus provided by the board should be earned on the backs of the teachers," Rivera told the Atlanta Journal-Constitution. "My hope is that it's an incentive for kids to do the right thing."
Of the 500 high schoolers in the graduating class, Rivera estimates that 150 to 200 students will apply to college.
If the application fees of his students exceed the amount of his $10,000 donation, he plans on paying out of pocket in order to cover the additional expenses—if there is any money leftover after his students have finished with their applications, then the funds will be used to finance college bus tours in Georgia.
——————————————————————————————-
from sunnyskyz.com
Neighbors Raise $50,000 In A Week To Help Special Needs Friend Keep His Home
August 6, 2019
Lamar Harris is a special needs adult with the mental abilities of a preteen. He has lived in his house in Gloucester Township, NJ, his entire life.
But Harris risked losing his home in weeks if he didn't pay $50,000.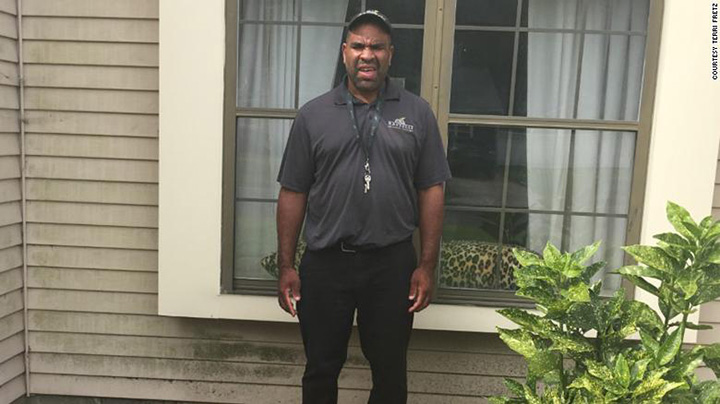 When neighbors discovered that he was days away from losing the home he'd grown up in, they rallied and raised more than $67,000.
As a result of the death of his family members, his reading deficits, and his inability to understand finances, Harris had fallen behind in his property taxes. They have not been paid since his father died in 2015.
So when he received a legal complaint that threatened him with foreclosure as a result of unpaid taxes and interest payments, his friends scrambled to help.
Terri Fretz, who has known Harris for 38 years, set up a GoFundMe page to try and settle his debts.
"We, his neighbors, have all banded together and have been watching out for Lamar since his dad died. This problem just recently came to light and is too big for just his neighbors to handle," Fretz wrote on GoFundMe.
And in just one week, they raised enough money to satisfy the lien and pay almost all of his 2019 taxes.
Harris was so thrilled when he heard he'd be able to stay in Cherry Circle, he called everyone on his street and met them in their yards to celebrate, Fretz told CNN.
She posted an update on GoFundMe to thank everyone who donated.
"We want to thank the hundreds of wonderful people who found room for Lamar in their hearts. You are all proof that kindness can make a difference in a person's life in a big way. We have raised the money needed to pay off the lien that was placed on Lamar's home. He is very grateful and understands the kindness that has been bestowed upon him. All donations that he continues to receive will be applied to Lamar's future and current needs (attorney fees, current year taxes, home maintenance). All money will be deposited into a bank account set up solely for the Lamar's benefit. There is still good in the world. There is still hope for us all."
—————————————————————————————————————————————–
from sunnyskyz.com
60 Farmers Harvest Crop For Neighbor Battling Cancer
August 13, 2019
Sixty farmers in Washington came out and harvested the wheat crop of a neighbor who is battling cancer.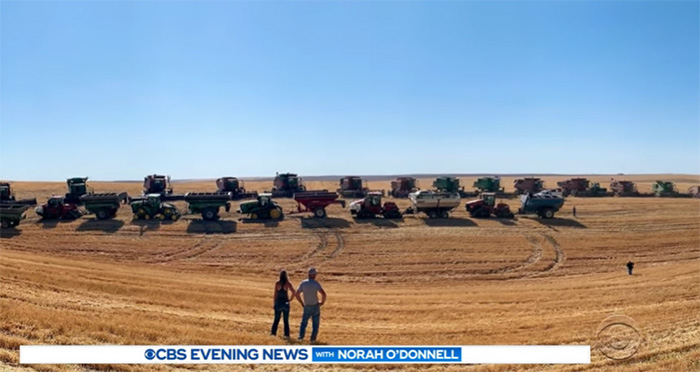 Larry Yockey owns a 12 hundred acre farm in Ritzville. But he has stage 4 skin cancer and can no longer work his fields.
So, his neighbors came out with their equipment. They were able to complete three weeks worth of harvesting in just six hours.
"It's not describable the gratitude I have for what's going on," Yockey said.
—————————————————————————————————————————————–
from MSN.com
Helping Sanford, Maine's homeless one hot meal at a time
In Sanford, police say the homeless population has increased significantly in recent years. In response, they've formed a new task force to help get the homeless the resources they need to get back on their feet.
Meanwhile, there's another group that's helping at the same time, a family that immigrated to Maine from Jamaica years ago.Inside One Love Cuisine on a Monday morning, you'll find jerk chicken sizzling on the grill and vegetables being slice up and plopped in the stockpot.

It looks like any restaurant kitchen. But these meals aren't meant for customers.

"I'm going to bring some food for Darian and Tammy first," said Lisa Tomlinson. "They're over by that camp over there."

Lisa Tomlinson whips up some favorite family recipes for people who can't afford them at the restaurant, and can barely afford anything, at all."Hey, George!"

With help from her brother and sister in law, Tomlinson feeds Sanford's homeless as often as they can. Sometimes daily.

"I'm back!"

She doesn't just provide them with a hot meal.

"Nice to meet you, Rob. Hey Devin."

She knows many of them by name and makes an effort to find out who they really are.

"You talked to your mom? That's awesome."

For some, those meaningful conversations and big hugs mean more than the food she delivers.

"At first it was kind of like, 'woah, who is this person? What do they want?' said one man. "You know it felt like they wanted something from us they can't just be going out of their way for us. Then it started it became every day she brings us a meal. She tells us she loves us, she takes care of us."

"Just to see the human compassion that the woman has is quite amazing," said Detective Eric Small.

Detective Small says he also is working to provide hope and give the homeless the resources they need, by way of a new task force which consists of four members of the Sanford Police Department.

"Last week officers spent time giving out shoes or giving people socks, or t-shirts or toiletries. Driving people to doctor's appointments or to take a shower or to get their medicine," he said.

Help can come in many forms. For Lisa Tomlinson, lending a hand is one place to start. And for that savory Jamaican dish, the only compensation she needs is a smile.

Tomlinson and her brother came to the states from Jamaica years ago. Tomlinson served in the U.S. Navy and her brother, Rohan, is the owner and head chef of One Love Cuisine.

Good News by Mandisa –