In 2019, there were about 567,715 homeless people living in the United States. 40 million people struggle with hunger and 40.6 million officially live in poverty.
I used to walk these streets
With shoes on my feet
I'm homeless, but had food to eat
Don't get me wrong, it's a hard life
Kindness of strangers often got me by
Some I would call friends who stopped to say hi
Some gave me a few bucks or spare change
As I sat on the corner of 48th and Broadway
But most look away or look at me like I'm insane
Maybe they thought if they pretended not to see
Then hopefully they wouldn't end up like me
Well, I never thought homelessness would be my story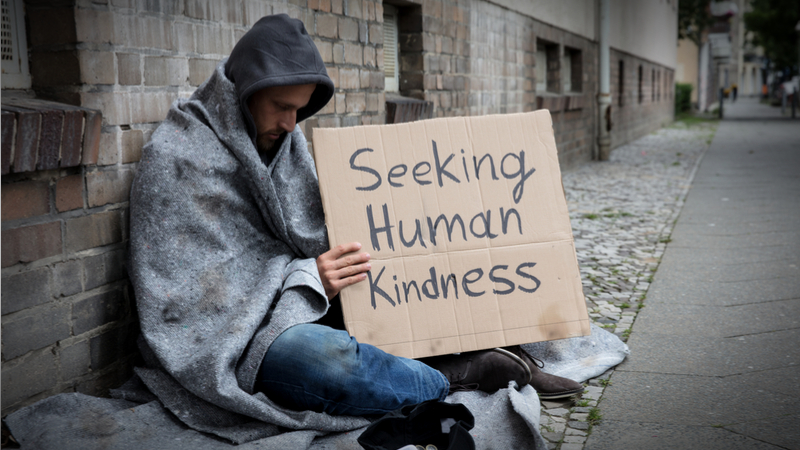 Call it a few rounds of bad luck
Thunder came and lightning struck
But I have never given up
But it's hard to get a job when you have no address
When people look through you, it feels hopeless
The misery of long nights in the coldness
But I knew I could make it through those nights
And I knew I would always fight
Because there was always hope in the light
Until that day when the streets cleared
And came my nightmare, my worst fears
Empty streets, people that helped all disappeared
All ordered to stay locked in their homes
Told not to venture out, not to roam
But what do you do when you are all alone?
Until that terrifying, frightful night
Loud voices, I knew something wasn't right
Then the group of people came into sight
I told them it wasn't right to riot and loot
I guess they didn't like my point of view
They beat me then the cowards stole my shoes
I don't know what's wrong with the world today
It seems like we have lost our way
But no one listens to what a homeless guy has to say
I'm not the only one on these empty streets
That need help, that have no food to ea
Will you help us? The thousands like me
By giving of your time, money, services or skills, you can make the difference in the life of a homeless person. Here's how:
1. Educate Yourself
There are myriad reasons why a person becomes homeless — lack of affordable housing, loss of a job, divorce, illness, substance abuse, domestic abuse, et cetera. One of the first steps you can take toward helping the homeless is trying to understand how they got there in the first place.
2. Show Some Respect
Don't treat a homeless person as if she were invisible. Say, "good morning," when you pass or strike up a conversation on a park bench. Many people experiencing homelessness say that the loss of dignity that accompanies their situation is harder to bear than the actual loss of physical things.
3. Donate
Clothing is a big one here, as are shoes and food. Non-perishable items are always in short supply at food pantries and homeless shelters. Other items that might be needed include blankets, coats, books and small kitchen items, such as cups and utensils. If you are donating to a homeless shelter or another organization that helps the homeless, consider donating office supplies, electronics, appliances, phone cards or other items that might help those who help the homeless. If you see someone who is homeless in winter, offer blankets, food or tarps (if you can't convince them to go to a shelter).
4. Volunteer
Sign up to work an evening shift at your local homeless shelter. Answer phones, sort mail, serve food, wash dishes, distribute clothes, babysit kids, clean floors, fix a leaky toilet. Find out what they need and how you can help.
5. Teach
Put your skills to good use by sharing them with the homeless. Organize classes through your local shelter to teach typing, accounting, plumbing, carpentry, child care, nutrition or even a new language. Those skills can help a homeless person find work and maybe even a better life.
6. Reach Out
Invite a homeless person to your place of worship or a local community event. Organize an outing to take homeless kids to the movies or an ice skating rink. Offer moral support when you can.
7. Seek Out Job Opportunities
Encourage your church or community center to hire a homeless person to paint, clean, type, answer phones or any other work that might fit. Many homeless people want to work but can't find regular employment.
8. Get Techy
Use your smartphone or other gadget to help the homeless. In San Francisco, download the app HandUp to read the stories of homeless people in your area and donate directly to those in need. In New York, the WeShelter app can help you learn how to get involved. And in Atlanta, every post you upload on the Luv4wrd app equals a coat, blanket or pair of gloves to someone living on the streets. Live somewhere else? Use a Google search to find a homeless app to help the people in your community.
9. Advocate
Call your local homeless shelters to find out what items are needed, then contact your local scout troops or civic organizations to organize food drives or other fundraising events to pull those items together. Follow local politics and speak up at town council meetings on issues of homelessness and programs for the homeless. Write editorial letters to your local newspaper about the issue of homelessness in your community and what people can do to help